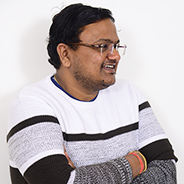 Vikas Gupta
COO & Founder
As COO & Founder, he is the Captain of this ship and has been successfully steering it since inception. His hands-on style of management has taken this from a small IT company with a staff of just five; and turned it into a sizeable company with a large office and taking on giants many times our size.
Under Vikas Gupta, the company has concentrated on strengthening its core skills which are Web development, SEO, Content and Back office services.
Our aim is to assist our customers in refining and automating their business processes thus reducing cost and improving services and returns. We grow with our customers.