Vishwajit Ilamkar
CEO & Founder
As one of the founders of Staffcloud.biz, Vishwajit Ilamkar has a clear vision and a plan on how StaffCloud can leverage the gap between demand and supply for staff in the United States of America and elsewhere amongst the developed countries.
Vishwajit points out that in developed countries, there is a gap between requirement and availability of young people. This in turn, leads them to hire immigrants. However, hiring immigrants apart from its political fallout, also means paying salaries and providing benefits as per norms and local labour laws.
Countries such as India on the other hand, have an abundance of young, qualified, intelligent and tech savvy youth.
Vishwajit feels that StaffCloud can leverage this staff requirement issue and balance the scales by providing the best of Indian staff to work and provide services virtually. No immigration is required and fees get decided between the vendor i.e. StaffCloud and the client. The benefits to the clients are obvious and enormous. With this in mind, Vishwajit Ilamkar teamed up with Indian partner Vikas Gupta; COO & Founder of Ephp Solutions – one of the top providers of e-solutions and virtual staff from India.
Vishwajit Ilamkar himself is a senior IT professional based in United States of America.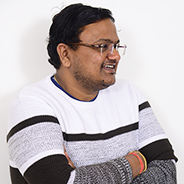 Vikas Gupta
COO & Founder
As COO & Founder, he is the Captain of this ship and has been successfully steering it since inception. His hands-on style of management has taken this from a small IT company with a staff of just five; and turned it into a sizeable company with a large office and taking on giants many times our size.
Under Vikas Gupta, the company has concentrated on strengthening its core skills which are Web development, SEO, Content and Back office services.
Our aim is to assist our customers in refining and automating their business processes thus reducing cost and improving services and returns. We grow with our customers.